CVOLVO MODEL KIT REVIEW:
---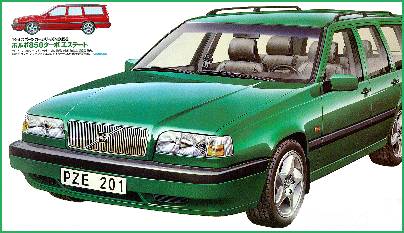 Details: Item 24152.1800 1/24th scale This is probably one of the most accurate plastic injection molded kits you can find of any Volvo. Tamiya, of Japan, has decided to base their model on a 1994 or 1995 850 Turbo Station Wagon (Estate). In typical fashion, Tamiya has individually bagged each plastic tree to prevent individual parts from rubbing against each other. The 5 spoke turbo swirl wheels have been sprayed a lustered aluminum and the tires are Michelin MXX3, right down to the raised letters and tread. The main body and chassis are molded in white plastic, while the interior and some suspension parts are molded in a dary grey, simulating leather.

Tamiya has even supplied the light grey carpets! The chassis needs to be painted a semi-gloss black and the body can be painted in whichever colour you wish. Tamiya suggests the paint mixing proportions for 7 actual Volvo colours - red, dark green pearl, metallic green, Red Pearl, Metallic Silver Sand, Dark Blue Pearl and Dark Olive Pearl. The decals are extremely well done, including all emblems, wooden dash, instrument cluster, tinted front window top and a choice of 3 license plates. The instructions are clear, but the exact sequence of individual components in sub-assemblies might be confusing for an inexperienced modeller. Care is needed in painting the clear tail light lenses and exterior glass sections (black).

There are a few disappontments in this otherwise fine kit. There is no engine, radiator, engine compartment; just a fake oil pan and transmission! Also, the engine hood is solid - not removable. The side trim and bumper tops are not separate, causing these details to be painted after the main body colour has dried thoroughly. Another drawback is the high cost of the kit, when you consider what was omitted by Tamiya. In Ottawa, the kit sold for $36.95. When you add taxes, paint and glue, this amounts to well over $50.

If you enjoy building models and collecting Volvo memorabilia, these shortcomings will likely not stop you from adding this model to your collection. I understand that Tamiya will be releasing the BTCC Racing version of the 850 Estate. I'm certain this will be the same kit with racing goodies, more decals and cost slightly higher. When I complete my model, I plan to post it here.





Image compilments of VOLVO Sweden


Watch this section for future kits and added Volvo memorabilia.
---

Return to CVOLVO Memorabilia