PROJECT AMAZON

July's accomplishments NEXT - My Trip to Southern Ontario

The Amazon was painted, starting with the "jams", which included the engine compartment, interior, trunk and door jams. The wheels were installed and the car was rolled into the paint booth for the roof paint - 65 Beige/Gray. Two days later, the 46 Red was painted over a dark gray base coat, 2 coats of red, followed by 2 clear coats. On July 1st, Canada Day, I began the arduous task of reassembling my Amazon. Previously I had rebuilt the window tracks with new window channel, so the doors were assembled as new as possible. This week all other parts; engine, dash, interior, lights and bumpers were installed at Fix Auto Collision. I drove the car home on July 5th, completing the final assembly at home. I took the Amazon back to the shop the following week, to install the new headliner, wind lace and fender emblems. Fix Auto also touched up any imperfections and painted the inside wheel wells, then I installed the mud flaps. The following chronicles these activities.


Now my Amazon looks like the postcard that Ed sent me. On July 15th, I had the car appraised by Peter Leidecker, LEIDECKER APPRAISALS LTD.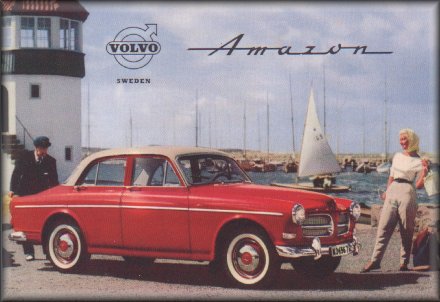 Work continues.........

Contact me at Cameron@cvolvo.com
More to come....... NEXT - My Trip to Southern Ontario