CVOLVO MODEL KIT REVIEW:
---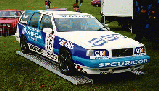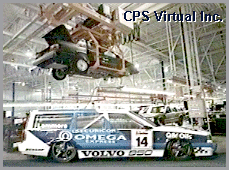 Real BTCC images compilments of Stuart MacGlashan's Unofficial BTCC Homepage
---
Details: Item 24162.1800 1/24th scale
I Should Have Known Better ....
In my previous review of the 850 Estate model I had presumed the 1994 racing British Touring Car Championship (BTCC) Estate would be basically the same kit with a few racing goodies. Boy, was I wrong!

The only identical parts in these two kits are the body, windows, tailights, head lights, door handles and front grill! All remaining parts accurately represent the BTCC racing components, from modified chassis to the right hand drive rollcaged driver's compartement. Wheels are T5R like on Dunlop low profile racing tires.

The most impressive part of the model is the decal sheet. Not only does it accurately portray your choice of vehicle #14 (Lammers) or #15 (Rydell), but the decals surprisingly adhere to all rounded surfaces. I used a bit of SOLVASET to ensure the decal molded to recessed details and moldings. This saves the modeller from a tedious job of painting and masking to achieve the authentic finish. The decals also allow you to leave the model in the white plastic that it's molded in. The placement of the decals was by far the most difficult, yet rewarding part of the construction. You might consider spraying a clear coat after the kit is finished to protect the model and decals.

The only disappointment was the same lack of engine detail and removable hood, otherwise this was a pleasure to build and display. I had to buy Tamiya X14 Sky Blue to paint the door handles and X10 Gun Metal for the T5R mags. I used existing Tamiya semi-gloss black, flat black, silver and transparent orange and red paints, which are well identified along with Tamiya's paint number. I have grown to like using their acrylic paints because of their quality and water soluable nature. The total cost of the kit added up to about $50 Canadian after taxes and paints. If you'd like to see some images of my BTCC model and pictures of the real car (BTCC display version), please click here.

TAMIYA - I should have known better!

Coming Soon - Tamiya will be releasing in May 96, the Volvo 850 BTCC Saloon (Kit 24168) as raced in the 1995 BTCC season. Decals will represent the two versions for drivers R. Rydell and T. Harvey. This kit will most likely be also brought out in an 854 commercial "street" version if I know Tamiya! It would be nice to see older VOLVO models in the same quality as demonstrated with these kits (are you listening Tamiya?).

---

Return to CVOLVO Memorabilia