PROJECT AMAZON

November's accomplishments NEXT - Plan for spring. look for missing/replacement parts ; ~ )
On November 1st I began a most memorable trip to visit Ed van der Zee, a great friend and fellow Volvo enthusiast in the Netherlands. After an event filled flight to Frankfurt, including an unscheduled stop in Montreal, I finally arrived in Amsterdam. Ed met me at the airport, driving his wife Yvonne's 1995 Volvo 480. This set the tone for many new experiences and the start of a full week of activities. Our daily excursions gave me the opportunity to meet many of Ed's friends and provided me a unique chance to see much of Holland and experience the warm hospitality and friendship of the Dutch.
Despite the long flight and many security related delays, upon my arrival in Amsterdam, I was ready to embark on the first leg of our journey. Ed drove his 480 to Naarden Vesting, east of Schiphol airport, to meet an invaluable resource to the Dutch Volvo V44 classic club. Hugo van den Berg is an amazing gentleman and automotive genius. Just to see the cars in his five bay garage, De Vijf Loodsen, is a testament to the European automotive industry and Hugo's success at preserving some of the best examples; Aston Martin DB2, MG-TC, Triumph GT+6 and of course many vintage Volvos. Hugo was the previous owner of Ed's 1961 Volvo 122-S Amazon. We spent much time going over the Amazon spare parts that Hugo had meticulously displayed and documented. These parts will keep Ed's Amazon on the road for many years to come. Hugo has the distinction of organizing many of the Dutch V44 club excursions across Europe. In the year 2000, Hugo planned the Moscow 2000 Trophy, where over 90 vintage Dutch Volvos drove from the Netherlands into Russia. Ed documented this excursion in their club's VOLVO classic Magazine (VCM) publication. Ed and I recently collaborated to publish a web enabled version of the Moskou 2000 Trophy .



1. Ed's 480
@ Hugo's garage

2. Ed inspects Amazon parts with Hugo

3. Hugo's immaculate Aston Martin DB2

4. Ed & Hugo take a closer look at DB2

5. Hugo's rally & modified 1965 PV544

6. Hugo's Moscow 2000 Volvo 145
After leaving Hugo's garage, we walked around Naarden Vesting, then returned to the home of Yvonne's parents in Amsterdam. That evening, we took a tram to Leidseplein for a late supper and a chance to relax. Although we last saw each other in Canada in May and we remain in contact through the Internet, there's no substitute for face-to-face communication. Saturday morning we took the tram to the old quarter of Amsterdam. We started our tour at the Damplein (Amsterdam public square), walking from the Royal Palace, past the New Church (Nieuwe Kerk) up to the National Monument, erected in remembrance to all who died between 1940 and 1945 (see image #8). We walked up and down the many quaint streets that line the many inland canals of Amsterdam. We visited places where Ed lived and studied, toured the Museum of Amsterdam and ended a busy day with a night boat tour of the many Amsterdam highlights we saw earlier in the day. We savored the many Dutch delicacies; pannekoda, bitterballen, Indonesian food and "white beer".





| | | | | | |
| --- | --- | --- | --- | --- | --- |
| 7. View of Naarden Vesting from Hugo's | 8. Model of Palace & the Dam at tiny Madurodam | 9. Oudezijds Voorburgwal section of Amsterdam | 10. 100 style house & Swatch | 11. Bikes are primary transportation in Amsterdam | 12. Central Station and tram in Amsterdam |
On Sunday we visited the miniature city of Madurodam , just south of Den Haag (The Hague), then drove south of Rotterdam, along the west coast into the province of Zeeland. We visited André Korstanje and his wife Helmie, who live in 's-Gravenpolder. André's white 240 is his "business" car that he drives on his house calls as a country physician. His daily drive is an 850 T5R Estate (wagon). André also owns an immaculate 1800S and an 1800-ES. He was in Canada last year and met several Canadian 1800 VSA members in the London area at a BBQ. I found it quite typical that Dutch Volvo owners are as loyal as their Canadian counterparts, owning several Volvos. Ed and I drove back to Den Haag for a scrumptious fish supper in Scheveningen, then back to Amsterdam.
On Monday we returned to Hugo's garage to pick up the Amazon parts for Ed's 122-S, then headed east towards Ed and Yvonne's home in Schaarsbergen, a nice rural location, north of Arnhem. It was so nice to see Yvonne again and meet her parents, El and Piet (who drive a Volvo 440). Ed was anxious to show me his prized Amazon. I was totally impressed with the excellent condition of this Amazon and how well it drove. Hugo had installed IPD front and rear sway bars, that help to contain the normal 122 body roll. As you can see, the 122-S is in great shape.





| | | | | | |
| --- | --- | --- | --- | --- | --- |
| 13. Ed & André's green 1800 | 14. Ed's 480, 122 Amazon and 960 Estate | 15. Yvonne, Ed, Bink & Amazon | 16. Ed's 1961 122-S Amazon | 17. Another shot | 18. Front end detail & accessories |
That evening, after meeting the rest of Ed and Yvonne's family, their daughter Thirza and their son Wytse, we went to visit Edwin, who lives in nearby Arnhem Ed had contacted Edwin before I left Canada, asking if I could see his 1960 Amazon. Edwin obtained his Amazon from the previous owner in Sweden, which explains the Amazon fender emblems. This vehicle is different from my Amazon, since it has a single carburetor B16A engine and the interior is more like Ed's 1961 122-S. Although Edwin was certain the year is 1960, based on the serial number, I think it's an early production 1961 Amazon. Regardless, it's likewise in fine condition as you can see by the following images.





| | | | | | |
| --- | --- | --- | --- | --- | --- |
| 19. Full accessories & Canadian flag! | 20. Edwin's 1960 Amazon | 21. Amazon B16A engine | 22. Another view of B16A engine | 23. Rear of Edwin's Amazon | 24. Amazon 1960 dash |
Tuesday was another memorable and busy day. We drove to the south in Ed's 960 to Nijmegen to visit the Groesbeek Canadian War Cemetery and Memorial . My mother's first husband is one of the 2,350 Canadian soldiers buried in the cemetery. We paid our respects at his grave site and I left a Remembrance Day poppy at his tombstone. Next we visited the Velorama Museum in Nijmegen, where vintage bicycles, ranging from 1830 until the present were displayed. Due to my interest in cycling, this museum was an unexpected treat. Our next destination was the well known SCANDCAR VOLVO CLASSICS , located in Moergestel. This trip gave me the opportunity to use a PocketPC GPS system, which guided us to Scandcar. It has been several years since Ed had visited Scandcar and they've moved locations since his last trip. Below are the screen images of our trip through Moergestel and our destination at Scandcar.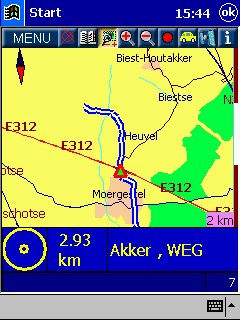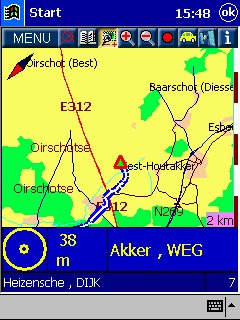 Once more the Dutch hospitality was demonstrated by Scandcar's owner, Sjef, his wife Martha and son Peter. I was totally impressed with the vast collection of vintage Volvos at Scandcar's garage - a 1938 PV51, a Volvo tractor, a 1955 PV444, many other assorted 122, 220, 544, 445, 140 and my obvious favorite, a 1957/58 Amazon. Scandcar can supply many original and replica Volvo parts for restoration - check out their website www.scandcar.nl . After a quick meal at McDonalds - I couldn't resist ordering a McKroquet (sounds like McRocket) which is made to represent a dutch specialty consisting of fried beef ragout, we arrived in Elshout. The busy day concluded with a visit to the Dutch V44 Club parts store, where over a million guilders (how may Euros is that ED?) worth of rare classic Volvo parts are available for sale to club members. I felt like a kid in a candy shop as Ed gave me a behind the counter tour. In order to purchase parts, first you must become a member of V44 and own a certified classic Volvo model.

| | | | | | |
| --- | --- | --- | --- | --- | --- |
| 25. Sjef's 1957 Amazon P120 | 26. Amazon's dash - notice location of heater controls | 27. Early license plate & rear detail | 28. Early B16A with older heater, hinges & mods | 29. 1938 PV51 dash detail | 30. Front of PV51, tractor to right rear |
On Wednesday, we visited the Airborne Museum , located in the Arnhem Hotel Hartenstein. The museum location is the actual British Headquarters used during Operation Market Garden, where Allied soldiers were defeated during the battles of Arnhem and Oosterbeek, portrayed in the W.W.II movie "A Bridge Too Far". My father was a paratrooper in the 1st Canadian Parachute Battalion, so the museum had a special significance for me. The symbol for the Commonwealth Airborne regiments was the maroon pegasus. Although the Canadian battalion was not involved in this parachute drop, it was still interesting to see the artifacts and dioramas of the actual battles, fought in this part of Holland. Next, we traveled to an ancient castle that houses a natural science Museum voor Natuuren Wilbeheer . We returned to Arnhem and went to the Arnhem (Oosterbeek) War Cemetery where many British, Polish and Canadian soldiers are buried. This was another very solemn day of remembrance in Holland.
Thursday was a "Volvo Day". This was my first chance to see Ed's white 1800-E. It's hard to believe that this California car started life painted Safari Yellow, having been re-painted Orange before Ed first acquired it nearly 10 years ago. The 1800-E was meticulously restored by Ed, literally from the ground up. The 1800-E is now 100% restored and is considered one of the most well preserved 1800's in the Netherlands. Ed took his 1800-E for its annual safety inspection, which it passed with no problems and later we did some work on his Amazon. It was time to change the B16B's oil. Since I had completed the job on my Amazon a week earlier in Canada, I was the "expert". The location of the oil filter on the B16 engine is awkwardly placed between the starter and the generator. Unlike the B18 oil filter, the B16 uses a filter insert and the oil filter cover is reused. It's impossible to do the job without spilling the used oil on the suspension cross member, not to mention the difficulty in replacing the rubber sealing ring. Regardless, we completed the job in the same meticulous fashion the Ed and I are both accustomed to. Ironically, his Amazon oil filter was missing some of the same parts that I was missing when I did my oil change. Fortunately, we had purchased a critical part at the V44 store and were able to improvise on the separate return spring.
Friday was spent shopping in Arnhem where I found a very good hobby shop, Wentink Hobby . I bought a Minichamps 1:43 scale Java brown 2001 XC for myself and ironically found an 1800-E for Ed that was the original Safari Yellow colour of his 1800-E. Next we traveled to an operational windmill in Zevenaar, called Molem de Hoop . Molen is the Dutch word for windmill and this variety of windmill is still used to grind flour for sale in the shop at the base of the unit. Windmills in the Netherlands are considered historic sites and an operational windmill is indeed an engineering marvel. Molem de Hoop was built in 1840 and was restored in 1963, and again in 1990.
On Saturday, Ed drove his 1800-E to his father's garage in Bilthoven while I followed in his 960 wagon. We drove from Arnhem to Utrecht along highway A27. Just as Ed was pulling into a BP gas station, Haddaway's " What Is Love " was broadcast on the radio. As I head-bopped with the SNL Butabi brothers at the Roxbury, I realized how much I felt totally at home and thought "driving in a Volvo in Holland" was an appropriate rhetorical response. Ed filled his 1800-E with 98 octane fuel and then we continued onto Bilthoven, the town that Ed grew up in, after leaving Canada when he was about 5 years old. After tucking the 1800 away, we drove north of Amsterdam to a popular tourist area, Zaanse Schans , known for the number of operating windmills and historic Dutch buildings. We visited another operational windmill, Verfmolen De Kat , built in 1782 and still used to grind colour pigments for dyes. From there we drove north, over the 30 km Afsluitdijk (means cut-off dike) dam, a man-made structure that separates the sea from IJsselmer, an inland fresh water lake. The IJsselmeer is the former Southern sea and was salty before the Afsluitdijk was built. It was originally planned that most of the IJsselmer would be used as reclaimed land, but this was changed in favor of preserving much of this lake as a recreational waterway.
We traveled north into the province of Friesland, to the town of Sneek (pronounced Snake). We visited another Volvo friend of Ed's, Wiebren de Jong, his wife Arjan. Wiebren owns two 1800s; an E coupe and an ES, both in near mint shape. Wiebren's 1972 "ES" is a highly modified/restored car with a 740 2.3 liter engine connected to an AW71 gearbox, painted in a Mercedes blue/green metallic - aptly re-badged as a P2300 ES. The "E" is stock and has a modified air conditioner with the Sankyo compressor pump. Wiebren was at the Watkins Glenn VCOA / VSA meet last June and has traveled extensively in Canada, making many new Volvo friends in the process.
In addition, he drives a unique blue Amazon 220, with a B20A engine that was at one time driven by the Swedish police in 1970. He also owns a unique Peugeot Cabriolet, with a PRV-6 motor that he was readying for an upcoming rally in France. Wiebren is planning a trip into Norway and Sweden for the Dutch 1800 owners club in May 2002. As I previously commented, the Dutch Volvo owners are very enthusiastic about their cars and own some of the best preserved Volvos I've ever seen.





| | | | | | |
| --- | --- | --- | --- | --- | --- |
| 31. Filling up Ed's 1800-E with 98 octane BP | 32. Ed driving his 1800-E through Bilthoven | 33. In front of Zaanse Schans windmills | 34. Afsluitdijk dam from south into Friesland | 35. Wiebren's immaculate 1800s under wraps | 36. 1970 220 Amazon with B20A police package |
We drove back to Ed's home, where Yvonne had prepared a special Indonesian meal and a farewell cake, iced in marzipan.
Unfortunately, all good things must come to an end. Early the next morning on Remembrance Day, Sunday November 11th, Ed drove me back to Schiphol airport, where he picked me up just 9 days earlier. I have relived the fond memories of my trip to the Netherlands while compiling this short travelogue. The hardest part was choosing from the many pictures I took, to help convey my feelings and emotions. After a brief flight to London Heathrow, I called my wife in Ottawa, reassuring her that I'd be safely home in a scant 6 hour's time. After a scheduled stop in Montreal this time, I was back in Ottawa, with my wife and driving in my XC. The following day was scheduled to be the storage day for my Amazon. I installed the mirrors I bought while in Holland, then took the following pictures. It was with great joy that I drove my Amazon to its winter storage spot, about 45 minutes away from our home, similar to the same process I helped Ed with, just 2 days beforehand. I tucked the Amazon away, removed the battery and covered it up, to be revived in the spring. The saga continues...................





| | | | | | |
| --- | --- | --- | --- | --- | --- |
| 37. Marzipan cake for last night in Holland | 38. Ed and his Labrador Bink (Bear in Dutch) | 39. Nov. 12th, storage day for my Amazon | 40. Rear view 60AMAZON - ready for winter! | 41. I can hardly wait for spring! | 42. New mirrors installed! |
Until then, bye for now....Cam

Parts Needed:
Amazon front fender emblems - now have part number (658394) Amazon-S
Instrument cluster, speedometer cable - next year's project
6 Volt Volvo clock (replaces ash tray in dash)
All pre-B18 122-S parts welcome
Contact me at Cameron@cvolvo.com
More to come....... NEXT - Plan for spring. look for missing/replacement parts ; ~ )