PROJECT AMAZON

December to May/June's accomplishments NEXT - painted and reassemble ; ~ )
After storing the Amazon for the winter, the hunt began for many missing and replacement parts. The sources where eBay, Vintage Import Parts, V44 parts store and a new found source, CVI Automotive in DELSBO Sweden (moved to Hudiksvall in January 2003). The eBay parts included a radiator hose and cap, accelerator bellows, another new water pump, M4 speedometer cable, braided fuel line, SU rebuild kits, a complete set of B16 gaskets, a European kilometer speedometer (from Germany), an Amazon fender emblem, new rear mud flaps, the Volvo 122 green manual, a glove box 1960 manual, a 1957 1:43 RobEddie Amazon and 4 Volvo 122-S fender emblems. The V44 parts include a gray cloth headliner, matching gray piping, front signal lenses, rubber trim, front bumper overrider, fuel pump repair kit, pitman arm bearings, missing oil filter components and many other miscellaneous parts. The CVI parts include new rubber signal housings, hubcap decals, headlight stone guards, a new interior light, proper rear tail lights and door reflective emblems.

I traveled back to Europe in March on business, then returned to Amsterdam for a short visit with Ed and Yvonne van der Zee. Ed and Yvonne picked me up at Schiphol in their green Amazon, returning from a get together of Volvo friends at André Korstanje's in Zeeland. On Monday we visited a zoo in Arnhem containing a rain forest, aquarium and Arizona desert. I found the layout and themes very similar to the Toronto Zoo. On Monday afternoon, Ed and I biked into Arnhem, along the Airborne Trail, successfully crossing the John Frost Bridge over the Rhine River (A Bridge Too Far). On Tuesday we drove to The Netherlands Open Air Museum (Openluchtmuseum) an outdoor museum, that contains many historic buildings gathered from all parts of Holland, including at least 6 molen (windmills). An Arnhem trolley car, rebuilt after being destroyed during the war, was impeccably restored and fully functional, taking us around the entire site. I had sent a list of parts I needed to Ed, so I picked these up at the V44 parts store on Tuesday evening. On Wednesday, coincidentally Ed's birthday, I returned regrettably to North America (sigh).


1. Zoo in Arnhem

2. Colonel John
Frost Bridge over Rhine River

3. Ed and I made it across the bridge safely

4. Ed and Wytse building a Volvo truck

5. Merchant's house at The Open Air Museum
The weekend following Easter, I took my wife's 262C out of winter storage on April 13th. After performing some routine maintenance, I exchanged the Amazon for the Bertone on May 4th. The following week I visited Fix Auto Collision, Gloucester, an automotive body shop, that encouraged me to do the preparation work, to help reduce the overall costs. In preparation, I started to remove the tar coating inside the front hood, remove the interior door coverings, headliner, dash and the front/rear bumpers. This took 3 weekends, ready for the colour change. After driving to the body shop, I spent the first day removing all door locks and window cranks, windows and guide rails. I removed the headlights, signal lights and rear trunk lock and tail lights.


| | | | |
| --- | --- | --- | --- |
| 6. Cleaned #42 white engine compartment | 7. Interior gutted, empty dash preparation | 8. Door locks removed day one at body shop | 9. End of first day, windows out and lights removed |

Day 2 saw the car ready for external sand blasting. Following this procedure, I spent the afternoon sanding and preparing the engine compartment for painting. All electrical connections were moved off the fender wells and the remaining gray paint and rust was sanded smooth.



10. Mike Jr.
taping windows
before sand blasting

11. Sand blasting
rear wheel fender rim

12. Hole in bottom
front door

13. Small spot on
hood brace

On day 3 the body work began with the welding of metal patches over any rusted areas uncovered with the sand blasting. The left rear wheel arch seemed to be in the worst condition, having been previously repaired. The body shop called this a "hidden treasure"! The bottom front corner of the right door and fender bottom needed a metal patch and the right rear quarter panel as well. On day 4 I finished sanding the engine compartment, removing all traces of the previous coating of silver paint. I completed sanding all four doors and removing the adhesive from the dashboard.


14. Left rear
wheel arch

15. Right
door corner

16. Right
quarter
panel

17. Sanded
white engine
compartment

18. Will it ever
run again?


Work on the body will continue on day 5. I will sand the upper door panels at home and commence the cleaning of all inner door components. I acquired new window padded tracts and gray cardboard at Automotive Restoration Supply in Prescott. Helga really knows her business and was most helpful, along with Todd who filled my order. I purchased a vinyl coating product called SEM to help restore the interior colour. Also, I will attempt to repair some rips in the rear seat, using a vinyl repair product called Magic Mender .
In week 2, the various body imperfections and patches were covered with body filler. This was applied in several stages, then filed and sanded to match the body contours. Meanwhile I thoroughly removed all adhesives and previous paint layers from the doors. I decided to completely remove the dash, to facilitate a better paint job - inside and out. My new tires arrived, 5.90 X 15 bias-ply and in preparation, the old tires were removed. I was given the job of sand blasting the wheels down to bare metal. Changing a car's colour is a long and tedious job if done correctly. Back at home, various trim pieces were re-painted, the hub caps cleaned and new decals installed. The door and window mechanisms will be cleaned and new window scrapers installed.



19. Mike and
Fai-hung work
on rear fender


20. Front end
detail work


21. Ready for
final work, then
primer coat


22. Dash out
and firewall
exposed


23. Wheels
sandblasted
to bare metal


It's now week 3 and things are all coming together. I assembled both bumpers, with many new parts to make them look better than when I started. The primer coat was applied to areas worked on and exposed metal. This will expose any imperfections, in preparation for the new paint.



24. Masking
prior to
primer coat


25. Mike starts
to prime the
repaired areas


26. Primer just
applied and
still wet


27. Haze from
primer and nearing
completion


28. All primed
and let to dry -
looking great!


In week 4 the interior vinyl was repaired and painted with the SEM vinyl coating. I selected Colorado Red as a near replacement for the weather faded seat and door panels. The upper parts were painted in generic beige. The metal wheels were painted and baked. Dan did an exceptional job, matching the Volvo Red 46 to Sikken VOL46. The wheels were painted on both sides, including the inner surfaces. They were then taken to Frisby Tire Co. on Industrial Avenue in Ottawa. The store manager, Francis was highly recommended and helped to locate and acquire BF Goodrich - Silverstone bias-ply tires. The following images were taken of the new tire and freshly painted wheels.



29. Allan static
balances the
wheels



30. Weights are
installed on
inside only


31. Wheels are
like new with
whitewalls


32. Back at
Fix Auto
trial install


33. Closeup of
5.90 X 15
bias-ply tire


My friend Ed sent me the 120 Series BODY Service Manual, which has the procedure for installing the new headliner and most other body trim components. Inside the envelope, sent from the Netherlands, was an appropriate postcard that Ed and Yvonne got for me during their recent excursion to Sweden and Norway. It's exactly what I intend this Amazon to look like and has inspired me to be patient about finishing this project. Thanks again Ed and Yvonne for your friendship and support.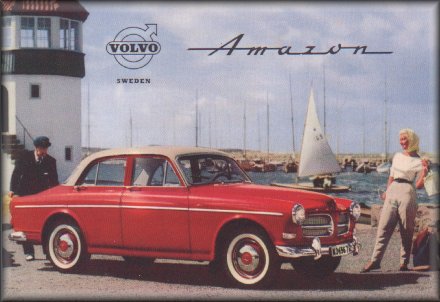 I completed my interior parts preparation this past weekend; seats, door panels arm rests and window scrappers. On Monday the new rocker panels were installed at Fix Auto Collision. The car's interior will be painted later this week and in preparation, I masked off the windshield, rear window and the engine compartment. Once painted, I can begin the reassembly.



34. Fai-hung
removes old
rocker panel



35. Fai-hung
fixes previous
job overlap


36. Rocker panel
as good as new


37. Winshield
masked prior
to interior paint


38. Engine and
heater masked
last time white!

Work continues.........

Contact me at Cameron@cvolvo.com
More to come....... NEXT - painted and reassemble ; ~ )