PROJECT AMAZON
Eighth week of restoration & inspection NEXT - complete front brakes and repair/install front nose piece
Last week, I was unable to perform any work through the week nights, but had a degree of success on the weekend. My shipment of parts arrived from Vintage Import Parts and I was really impressed with the quality of the OEM parts - good job Olof. I started to repair the inside of the front fender rails, inside the fenders, using POR-15, fiberglass patches and POR epoxy putty. Sunday I drove to a Volvo meet in Pickering Ontario, took many images of 122s and made some good contacts. On Monday, I located a source for new front flexible brake lines in Ottawa and rebuilt the front signal/driving light rubber cases using POR putty.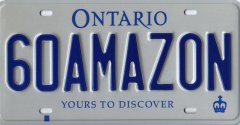 As well, my personalized license plate arrived this past week.

Saturday, August 25th: My supplier could only find a flexible brake hose that was 2" shorter. This was not acceptable, so I concentrated on the inside front fender area. The right passenger side was worse than the driver's side. Regardless, I treated the area with the POR process and it's starting to take shape.
While the right side was setting, I removed the driver's side fender. Although the rail was in better shape, there were still a few areas that needed to be patched. Since I had both fenders off the body, I inspected both and found that dirt had accumulated along the entire seam at the rear of each fender. You'll notice that surface rust has started to set in, even under the undercoat. This was thoroughly cleaned, hosed down, then treated with POR degreaser, metal prep and POR-15. The images below illustrate the rust and POR treatment.


1.
Right
fender rail

2.
Right
from rear


3. Fender
with rust
inside


4. Left
fender is
POR treated

5. Right
with POR
and patch
Sunday, August 26th: I got up early and drove 430 km to a Volvo meet sponsored by the Canadian Volvo Club, Durham Chapter in Pickering, Ontario. Our fearless leader was Sean, joined by Michael and Gerry. I was able to pick up a few parts, including a "non-American" bumper, a 6 volt head light and a gearshift boot. Better still, I was able to see some great P120 and P220 Amazons (122-S) and meet their proud owners.
The following pictures were shot at the Volvo meet:


1. Sean
dusted by a
Chevette!

2.

Ian's 1968


3.
Cameron's
1966

4.

Ian's 1964


5.
Carol's
1968 P220


6.
Sam's
1968 P220
Monday, August 27th: I finally purchased the flexible brake hoses, at a hydraulic truck/trailer shop in Ottawa. I was surprised these were readily available for the incredible price of $16.00 each. I started to apply the POR epoxy putty over the fiberglass patches and found a new use for POR putty. I repaired the rubber signal light housing rims using putty, which is easily shaped using water. I removed the original front bumper and installed the one I purchased at the Pickering show. I ran out of POR epoxy putty, so needed to place an order for 2 more packages. This is an incredible material, very malleable, but dries hard as a rock.
Parts Needed:
Front signal rubber boot, smaller than 1962 122-S - repaired existing
Front flexible brake lines - Malbek Hydraulic Supply (parts in stock!)
Amazon front fender emblems - now have part (658394) Amazon-S and possible source in Michigan
1960 P120 Amazon glove tray manual
All pre-B18 122-S parts welcome
Contact me at Cameron@cvolvo.com
More to come....... NEXT - complete front brakes and repair/install front nose piece