PROJECT AMAZON
First week of restoration & inspection NEXT - acquire missing parts, fix SU H4 carburetors, pull rear drums
I decided to purchase the 122-S on July 3rd, 2001. Ironically this was the 31st anniversary of the last P 120 to roll off the production line. The ownership was transferred and a personal plate was bought - 60AMAZON. The car was towed to my home on July 6th and put into the garage.
After placing the previous images onto this web site, Rob, an observant Volvo owner, noticed that the SU H4 carburetors were installed incorrectly. This was repaired on July 14th but the engine would not fire, due to a weak battery.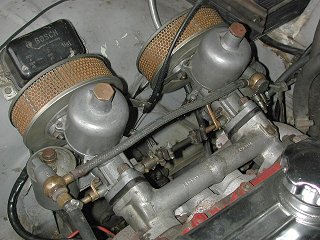 This week, I acquired new door rubber seals and a drum puller from Ron. So, now I can remove the rear drums and inspect the brakes.
Sunday, July 15th: I was able to get the B16B started and after setting the idle and rough adjusting the jets, it actually sounded quite good. I also was able to restore the threads on the right rear axle. The next chore is to remove the rear drums and inspect the brakes, fix the emergency brake. There are several electrical faults, but this may be due to the condition of the fuses. Regardless, all electrical circuits will need to be checked.
Parts Needed:
SU H4 fast idle cam & shaft
6 Volt battery
Trunk rubber seal
6 Volt lights, components, etc....
All pre-B18 122-S parts welcome
Contact me at Cameron@cvolvo.com
More to come....... NEXT - acquire missing parts, fix SU H4 carburetors, pull rear drums