PROJECT AMAZON
Third week of restoration & inspection NEXT - finish brake inspection & refurbish

| | | | |
| --- | --- | --- | --- |
| 1. B16B Engine | 2. Puller on drum | 3. Drum removed | 4. Right brake |
This week, I acquired many needed parts from Rob. These included a 4 bladed fan and rebuilt SU H4 carburetors, plus many 6V electrical parts that will act as spares. Rob graciously parted with a temperature gauge, heater and wiper motor, and 8 fantastic hub caps. I purchased a speedometer cable from e-bay. Also, I will be getting a gold letter "L" to match the existing hood letters.
Saturday, July 21st: I replaced the original leaking SU H4s with Rob's. These ran smoothly and have all linkages now intact and functioning. The battery is still weak, so I decided to replace the starter. Since I had the intake manifold off, the starter was accessible. Unfortunately, the B16 engine oil filter must be removed when replacing the starter. I painted the exhaust manifold the production black, using Lockwood heat paint.
Sunday, July 22th: I jacked up the rear axle, installing two axle jacks for safety. Using Ron's drum puller, I finally removed the right rear drum. When I received the final "pop" it brought back fond memories. I haven't worked so hard in 25 years, but it was worth the effort. Next, I will replace the brake linings and I have a wheel cylinder repair kit to install.
Possible colour scheme:
Rubinred (46) with a Grey-beige (51) roof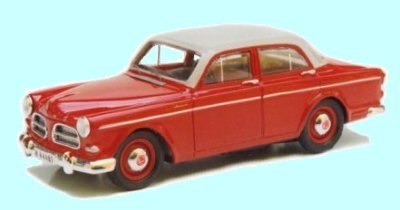 Parts Needed:
SU H4 fast idle cam & shaft
6 Volt battery
Trunk rubber seal
Hood rubber seals
6 Volt lights, components, etc....
All pre-B18 122-S parts welcome
Contact me at Cameron@cvolvo.com
More to come....... NEXT - finish brake inspection & refurbish