PROJECT AMAZON
Sixth week of restoration & inspection NEXT - inspect front brakes and fix electrical faults
Despite record high temperatures in Ottawa this week, I gradually finished my work on the rear brakes, installed a new pair of emergency brake cables then adjusted and bled the brakes. I can honestly say the rear brakes are as good as they were 41 years ago. I was fortunate enough to contact "Professor Volvo", aka Duncan last week and he digitized a 1960 Volvo 122-S sales brochure. Below are the 14 original pages, which I guess I should likewise thank AB Volvo!

1960 Volvo 122 Sales Brochure

1.

2.

3.

4.

5.

6.

7.

8.

9.

10.

11.

12.

13.

14.
Images copyright
AB Volvo
Wednesday, August 8th: I cleaned the left brake components (leaking wheel cylinder), glass blasted the parts and painted the exposed parts. I decided not to remove the wheel bearings, despite the advice of many vintage Volvo owners. I would have had to replace the rear brake lines and this would lengthen the time to get the Amazon certified. My deadline is to have the car certified and ready for winter storage by mid-October. As planned, the emergency brake cables arrived on Friday from Volvo Village in Toronto.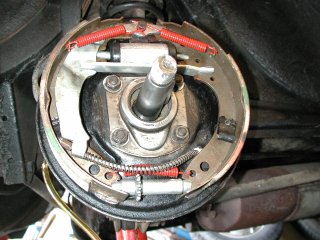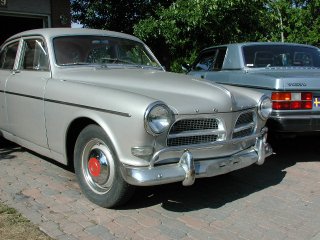 Saturday, August 11th: I completed the left rear brake and realized the right rear had some inherent problems - backing plate bolts reversed, emergency brake bar incorrectly installed. So, I redid the right rear, centred the shoes and installed the drum. I adjusted the shoes, then reconnected the emergency brakes and adjusted the tension. Tomorrow, with the help of my wife Joan, we will bleed the rear brakes. Fortunately, the bleeding screw didn't sieze.
Sunday, August 12th: I reinstalled the rear wheels and moved the car into my driveway. I reversed the car, so I can inspect the front wheels and fix the outstanding electrical faults. I installed the gold "L" and took some pictures. My shipment of parts from Vintage Import Parts is expected to arrive within the next 2 weeks.

Parts Needed:
SU H4 fast idle cam & shaft
6 Volt battery
Trunk rubber seal - on order from Vintage Import Parts
Hood rubber seals - on order from Vintage Import Parts
Gas cap rubber seal - on order from Vintage Import Parts
Front mud flaps - on order from Vintage Import Parts
Hood rubber button set - on order from Vintage Import Parts
Rubber upper suspension bushings - on order from Vintage Import Parts
Emergency brake cables - on e-bay
1960 P120 Amazon glove tray manual
6 Volt lights, components, etc....
All pre-B18 122-S parts welcome
Contact me at Cameron@cvolvo.com
More to come....... NEXT - inspect front brakes and fix electrical faults